Days Left to Departure
: 6
I was badly in need of what today turned out exactly to be. After the break neck pace of almost non-stop travel, picture editing, blogging, and taking care of school related business both home and abroad, I need to just chill out and not have anything bloggably awesome happen for a full sun cycle. This entry should push my blog word count over 25,000 since I arrived in Germany (about 39 single spaced pages, so far). And pretty much, a low key, chill out day is what happened. I dragged myself out of bed at , 45 minutes later than I had optimistically hoped for the night before. I didn't have to be upstairs until , but I wanted to be less of a hermit than I can be, down here in the dungeon, so I worked on my blog for a while to chronicle Amsterdam and the posted it. I also spent about an hour reading the news and sports sections of various websites that I frequent, including The Times Union, The Saratogian, and most religiously, Matt Cerrone's Mets Blog.
After that I sent a long overdue e-mail to my wife, who I am starting to miss very much. It's been harder than I anticipated being away from her for this long. It appears that I am not as independent as I thought and I spent most of the day hoping that she would call, just by chance (especially because I am out of minutes on my phone). When I finished typing that tome to her, I then did another round of hand washed laundry, which I am hoping can get me through my last week here. I cleaned up my room, made my bed, and went upstairs at about , feeling pretty spectacular about things in general. We went to some posh restaurant with the whole Schwich family, besides Esther who is in New Zealand, and whose bungee jumping experience DVD arrived today. She jumped from a height of 48 meters. Pretty impressive courage for a 15 year-old!
After lunch, which was a two hour event, I settled in to do what English teachers do best when they are not correcting papers: pleasure reading. Since Leah G. was threatening to execute me if I did not read the book she gave me while I was away, I decided to see if I could get through some of it while sitting on the couch in the Schwich's living room. Something that I have come to enjoy, mostly, is that there is pretty much classical music playing 24/7 around this place and that it's quite easy to listen to AND read. Something I might keep in mind when I am trying to stay up and correct papers to all hours of the morning.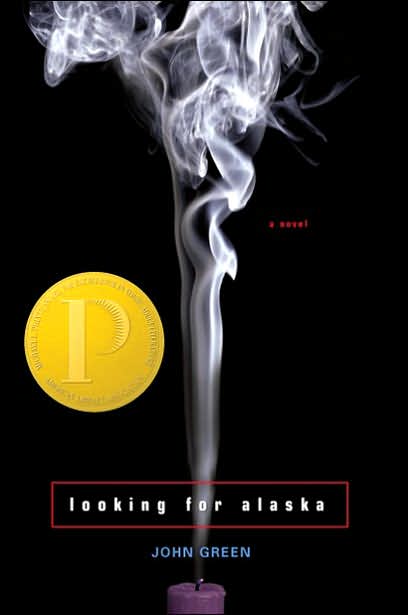 The book Leah recommended was Looking for Alaska by John Green. Its upper end Y.A. Literature, but it was a pretty satisfying read and I mowed through it, only getting up, once at to stretch my legs and check my e-mail, and grab a bite to eat for dinner (literally) with Beatrix. At about , I finished the book. Something of a modern day Catcher in the
Rye, but for me with a more likeable character than J.D. Salinger's Holden Caulfield. It made me think about a lot of aspects of life, which I always hold as the most important aspect of any book I consider reading. I think that is why I find so many books that I generally enjoy and tend to pass on works like The Sound and The Fury as the only thought I kept getting out of it was "why does this book make my brain hurt?". I like crushing books in one (basically) sitting and this was no exception. It annoyed me that I didn't finish the last Harry Potter in one single shot, that it took two sittings to get through it, but Looking for Alaska was only 225 pages. I recommend it, although despite its YA rating, it has some hot and heavy scenes from its eleventh grade protagonists. The second half, while somewhat forced and even contrived at times, did ask some great questions. I personally liked the character The Old Man, who was the world religion teacher. His philosophical questions were interesting and one of them I think I am going to use in UHS Mythology next year.
It also had a character, Pudge, who was addicted to knowing what people's last words were before he or she died. It made me think about what I would like mine to be. Elias Pisner, German immigrant turned Union College professor and Civil War sergeant (if memory serves) said, "God protect my wife and children.", and there were some ones in the novel I already knew, like John Adams and Thomas Jefferson. I might have some time to come up with my final words, but it made me think what I would want the last thing I say on Earth to be about. Would I want to impart wisdom, or make someone laugh? Both?
It also reminded me of a recent lecture series that made headlines. It was about a college, Carnegie Mellon, that asked professors to prepare one lecture about anything and give it like it was the last lecture that they would ever give. One professor, Randy Pausch, was dying of cancer despite being a young guy, and gave what many have called "The Best Lecture of All Time". I am linking a copy because I don't have a lot of cultural substance today, so I feel like you, loyal blog followers, should at least get a bell or a whistle today.
And that was basically my lazy, chill day. And to steal a quote of a quote from Looking for Alaska (which has nothing to do with the state of Alaska, coincidentally), I will leave you with the following line:
"I now go in search of the Great Perhaps." Maybe that is why I came to Germany. It certainly was why I went to China. Now the fun part. Figuring it all out...